Dolor de Cuello

Y

El Estilo De Vida De La Quiropráctica



Reduciendo los síntomas y corrigiendo la causa.

Una costumbre popular ante el dolor de cuello es tomar pastillas para enmascarar el problema (aspirina, analgésicos) o concentrarse en tratar los síntomas (relajantes musculares, masajes, compresas calientes).

¡Pero el dolor de cuello no es causado por falta de aspirinas ni drogas!

El manejo quiropráctico del dolor de cuello localiza la causa. Esto comienza con una
completa historia del caso y un examen físico completo. Se debe brindar especial atención a la estructura y funcionamiento de la columna vertebral y su efecto sobre el sistema nervioso.



Un masaje se siente bien pero realmente no llega a corregir la verdadera causa del dolor de cuello.



El dolor de cuello no está causado por falta de aspirinas ni analgésicos.

¿Está la correcta curva cervical presente? ¿Están las salidas para los nervios a cada lado de la columna despejadas? ¿Está balanceada la cabeza? ¿Están los hombros alineados?
Estas y otras consideraciones son útiles para crear un programa de ajustes quiroprácticos para ayudar a mejorar la posición y el movimiento de las vértebras en la columna vertebral.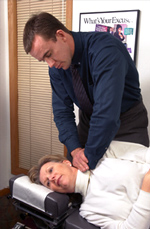 Con mejor estructura y funcionamiento, el dolor de cuello disminuye y hasta puede desaparecer completamente, todo esto sin medicamentos adictivos ni efectos secundarios.
En un estudio publicado en el Periódico de Terapias Manipulativas y Fisiológicas, se reportó que los pacientes que recibían manejo quiropráctico tenían un mejoramiento significativo en el funcionamiento cervical y reducción del dolor de cuello, mientras que los que tomaban analgésicos no lo tenían así.




Una queja muy común.



¿Le resulta difícil volver a ver sobre su hombro? ¿Hay un dolor constante o tensión en su cuello? ¿Nota acaso un sonido como "cáscaras de huevo" al rotar su cabeza? Si siente alguno de estos síntomas contacte a su quiropráctico para una historia clínica y examen.



Su cuello tiene que sostener y balancear el equivalente a una bola de boliche de 10 a 13 libras.






El Estilo De Vida De La Quiropráctica



Los quiroprácticos son expertos en el cuidado de huesos, músculos, nervios y tejidos conectivos que forman el 60% del cuerpo. Todas las articulaciones en el cuerpo forman parte del sistema músculo - esqueleto y su funcionamiento óptimo es necesario para la buena salud. Pídale a su quiropráctico más información sobre un programa que puede incluir ajustes vertebrales específicos, recomendaciones de ejercicio, nutrición apropiada y otros métodos conservativos basados en su historia, edad, condición actual y estilo de vida.


---
REFERENCIAS:
---
Breig, A., et al., Effect of Mechanical Stresses on the Spinal Cord in Cervical Spondylosis, Neurosurgery, 25: 45-56, 1966.
Harrison, D., D.C., Spinal Biomechanics: A Chiropractic Perspective, Journal of Clinical Chiropractic, 1992.
Kirk, R., D. C., Lawrence, D., D. C., Valvo, N., D. C., States' Manual of Spinal, Pelvic and Extravertebral Technics, 3rd edition, National College of Chiropractic, 1991.
Maynard, J., D.C., Healing Hands, 4th edition, Jonorm Publishing, 1991.
McAlpine, J., D.C., A Discussion of the Dentate Ligament Nerve Traction Mechanism, International Review of Chiropractic, October-December 1980.
Schafer, R., D.C., Faye, L., D.C., Motion Palpation and Chiropractic, 2nd edition, Motion Palpation Institute, 1990.
Strauss, J., D.C., Chiropractic Philosophy, 3rd edition, Foundation for the Advancement of Chiropractic Education, 1994.

©2003 Back Talk Systems, Inc.
(800) 937-3113 (303) 277-9990
www.backtalksystems.com