VAX-D treatment was originally developed by Allan E. Dyer, Ph.D., M.D., former Ontario Deputy Minister of Health and a cardiologist who pioneered research on the heart defibrillator.

Dr. Dyer himself suffered a herniated disc. After conventional therapy failed, Dr. Dyer formulated the theories that lead to the design and development of VAX-D. After spending more that 6 years in research and development of the treatment and device, Dr. Dyer introduced VAX-D in 1991. Today there are over a hundred VAX-D units operating throughout the United States, Puerto Rico, Canada and Australia.

During the last few years VAX-D therapy has gained rapid popularity for it exceptional results in treating both chronic and severe back pain without surgery.

Simply described, the VAX-D treatment consists of a therapeutic table that is connected to a computer that electronically distracts or "decompresses" the spine. The patient lies face down while an attached brace administer distractive forces along the spinal column. This simple procedure decompresses the spine, specifically the intervertebral discs and spinal muscles, the very same structures that produce most forms of back pain.
Patients with low back pain are first examined and then evaluated in accordance with the indications for VAX-D Treatment. Patient medical histories, x-rays and CT/MRI scans are carefully reviewed to determine whether the individual patient qualifies for the procedure. If a patient qualifies for VAX-D Treatment, an individual treatment plan (usually consisting of 20-30 treatment sessions) is developed to meet their specific needs.

Each treatment session begins by fitting the patient with a patented pelvic harness designed to achieve optimal decompression of the lumbar spine. The patient lies fully dressed on the VAX-D device and is properly positioned by a technician to maximize comfort and safety. The controls and settings are adjusted in accordance with the individual patient's treatment plan, and the procedure commences. The VAX-D device then applies precisely controlled tension along the axis of the spinal column to distract the vertebral segments and posterior facets of the lumbar spine and decompress the intervertebral discs. Each distraction cycle, lasting anywhere from 30-60 seconds, is followed by a relaxation cycle of similar duration.

Each session, which consists of 15 continuous cycles of distraction/relaxation, takes about 30 minutes. The fully automated process of VAX-D treatment is managed by a computer programmed console that is in turned monitored by the technician. A continuous chart recording is made of the parameters achieved during each and every cycle. The chart recording is printed to form a permanent record for the patient's chart and is available for review by the treating doctor.
| | |
| --- | --- |
| • | VAX-D non-surgical treatment for the management of patients with bulging discs, herniated discs and degenerative disc disease. |
| • | VAX-D is designed to achieve decompression of the intervertebral disc |
| • | VAX-D is safe and effective without any of the risks associated with surgery, anesthesia, infection, injections etc. |
| • | The entire treatment can range from 20 to 60 minutes with the total number of treatments depending on the severity of each case. The average number of treatments per patient ranges from 20 – 30 visits, usually to 3 or 4 times per week for up to 6 weeks. |
| • | Reports have shown that more than 70% of VAX-D patients report a pain scale reduced to less than 2 within one month and more than 70% of VAX-D patients returned to work. |
Low back pain has become on of the most significant medical and socio-economic problems in western societies. Low back problems affect almost everyone sometime during their lifetime. Low back complaints that are related to work are the most common problems presented to occupational health and primary care providers. For persons under age 45, low back problems are the most common cause of disability.

For the last decade there has been some controversy as to the appropriateness of many traditional procedures utilized in the management of spinal pain and disability. Back pain is frequently treated in an episodic manner with such modalities as medication, heat and cold, appropriate exercises, manipulation, physical therapy, bed rest, acupuncture, TENS, injections and others. Despite these treatments, many patients have less then satisfactory results in the management of their chronic pain and despite the overwhelming statistics on the magnitude of the problem; the number of cases continues to grow.

Often, the patient is led to surgery. Surgical decompression of intervertebral discs has been established for the management of disabling low back pain and sciatic pain. In many cases surgery may disrupt the natural bio-mechanical functions essential to preserve pain-free spinal mobility. Before resorting to a surgical many healthcare providers try a conservative and non-invasive approach first.

The introduction of VAX-D offers practitioners a safe, cost effective and conservative management program to manage acute and chronic low back problems in their office. VAX-D can relieve the pain associated with herniated discs, degenerative disc disease, posterior facet syndrome and radicular pain.

Many times a patient will be seen by one or more different specialties creating a team approach to care. In this way, patients get the best that each profession has to offer, all focused on getting you rid of your pain.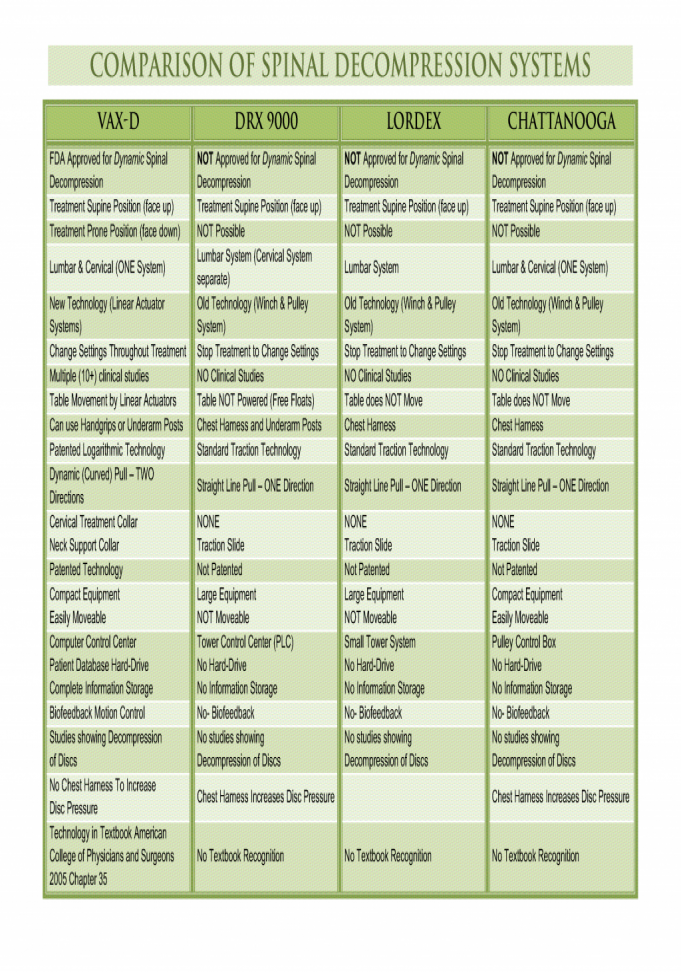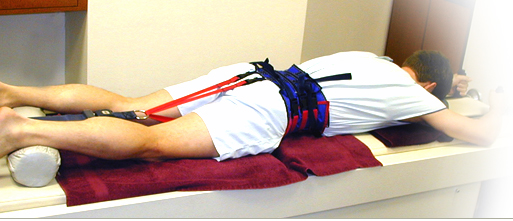 Clinical Research
• Outcomes After a Prone Lumbar Traction Protocol for Patients With Activity-Limiting Low Back Pain: A Prospective Case Series Study
Paul F. Beattie, PhD, PT, OCS, Roger M. Nelson, PhD, PT, Lori A. Michener, PhD, PT, ATC, SCS, Joseph Cammarata, DC, Jonathan Donley, DPT
Archives of Physical Medicine And Rehabilitation, Volume 89, February 2008
• Short And Long-Term Outcomes Following Treatment with the VAX-D Protocol for Patients with Chronic, Activity Limiting Low Back Pain Beattie PF., Nelson R., Michener L., Cammarata J., Donely J.
Journal of Orthopaedic & Sports Physical Therapy, Volume 35, Number 1, January 2005
• Efficacy of Vertebral Axial Decompression (VAX-D) on Chronic Low Back Pain: A Study of Dosage Regimen
Ramos G., MD,
Journal of Neurological Research, Volume 26, April 2004
• Effects of Vertebral Axial Decompression On Intradiscal Pressure.
Ramos G., MD, Martin W., MD,
Journal of Neurosurgery 81: 350-353, 1994
• A Prospective Randomized Controlled Study of VAX-D and TENS for the Treatment of Chronic Low Back Pain
Sherry E., MD FRACS, Kitchener P., MB, BS FRANZCR, Smart R., MB, Ch.B
Journal of Neurological Research Volume 23, No 7, October 2001
• Vertebral Axial Decompression Therapy for Pain Associated with Herniated or Degenerated Discs or Facet Syndrome: An Outcome Study
Gose E., Ph.D, Naguszewski W., MD, Naguszewski R., MD,
Journal of Neurological Research, Volume 20, No 3, April 1998.
• Dermatosomal Somatosensory Evoked Potential Demonstration of Nerve Root Decompression After VAX-D Therapy
Naguszewski W., MD, Naguszewski R., MD, Gose E., Ph.D
Journal of Neurological Research Vol 23 , No 7, October 2001
• The Effects of Vertebral Axial Decompression On Sensory Nerve Dysfunction In Patients with Low Back Pain and Radiculopathy
Tilaro F., MD, Miskovich D. MD
Canadian Journal of Clinical Medicine Vol. 6, No 1, January 1999
• VAX-D Reduces Chronic Discogenic Low Back Pain- 4 year Study
Odell R., MD. Ph.D, Boudreau D. DO
Anesthesiology News, Volume 29, Number 3 , March 2003
• Prospective Randomized Study of VAX-D Therapy for Acute Low Back Distress
Peerless S., MD. FRCP, Meissner L., MD, FRCP
Barnett H. J.M., MD. FRCP, Stiller C. R., MD, FRCP
The John P. Robarts Institute, University Hospital at London
University of Western Ontario, Canada
• An Industry Based, Retrospective, Cost Analysis of Vertebral Axial Decompression (VAX-D) VS. Surgery For Lumbar Disc Disease: 10 Case Studies
David C. Duncan, MD, Don Keenan, SPHR, Ph.D.
Sinclair Oil Corporation Study, Tulsa Oklahoma
• An Overview of Vertebral Axial Decompression
Tilaro F., MD
Canadian Journal of Clinical Medicine Vol. 5, No 1, January 1998

Text Books
Practice of Minimally Invasive Spinal Technique, 2006 Edition
Editorial Committee
Martin H Savitz, M.D., Ph.D., F.A.C.S., F.I.C.S., F.R.C.S. (US)
John C. Chiu, M.S., D.Sc., F.R.C.S. (US), F.I.C.S.
Wolfgang Rauschning, M.D., Ph.D.
Anthony T. Yeung, M.D., F.A.B.M.I.S.S.
Chapter 35; VAX-D (Vertebral Axial Decompression)
American Academy of Minimally Invasive Spinal Medicine and Surgery
Richmond, VA : AAMISMS Education, [2006]
Articles
•Vertebral Axial Decompression
European Musculoskelatal Review 2007 ; Issue 2
•Orthopaedics: New answers to an age-old problem.
Hospital Management International 2004;
Annual Issue of the International Hospital Federation Journal, March 1, 2004
•Welcome Relief for Low Back Pain
Stewart J. CBS Health Watch
Beth Israel Deaconess Medical Center (BIDMC), Harvard Medical School
• Back Pain Abhors a Vacuum
Panko R.,
Best's Review- Life / Health; A.M. Best Company, Insurance Issues and Analysis, September 1998
• The Treatment of Discogenic Low Back Pain: An Integrated Approach (VAX-D- Vertebral Axial Decompression Therapy)
Tilaro F., MD.
The McKenzie North American Conference, June 2-4 2000
•VAX-D Outcome Study Results
Medical Technologies Group Newsletter
Advisors to the Insurance Industry
Volume 5, Number 15, November 1996
•MTG 's Special Report On VAX-D
Medical Technologies Group Newsletter
Advisors to the Insurance Industry
Volume 4, Number 8, August 1995